5 ways to reduce bathroom renovation costs
In the early stages of planning a new bathroom, it's natural to fantasize about fancy European hardware, wall-to-wall handmade tiles, expansive skylights, and other extravagances you think you can't live without. Reality can hit hard when you find out the price for such perfection.

Can you still create a sanctuary bathroom even if you're on a budget? The answer is yes, as long as you know where it makes sense to splurge and where it's okay to wipe out.
Here are five tips for cutting corners on your bathroom without sacrificing style, function or quality.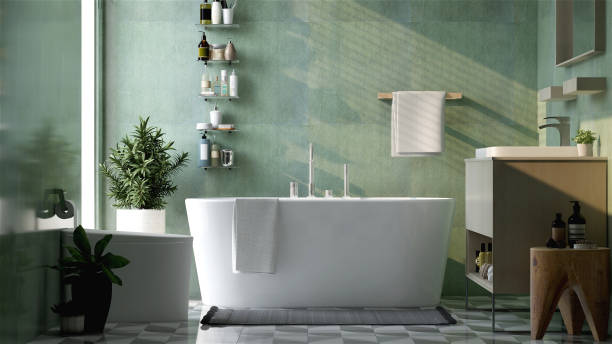 1, Do your demo
Before you install your new mosaic tile shower, you'll need to take off those icky existing fixtures. You can hire a pro for this important demolition phase, or you can do it yourself which means you'll have more money to spend on something you want.
However, don't assume that a DIY demonstration doesn't require some planning. For one, you'll need the right tools. The necessary tools you'll need are a hammer, a large shovel, tools, and an old pickaxe hammer that doesn't mind destruction. And make sure you know what's behind the walls before you start swinging. Surprises you want to avoid include anything from live electrical wires to water pipes. Finally, don't assume that your demonstration will cost nothing.
In addition to the right tools, you'll likely need to rent a dumpster or hire a haulier to collect the debris.

2, Check out the Recycling Center
Lightly used and recycled fixtures and building materials cost a fraction of what you would pay for new in a neighbourhood centre, such as tiles, building materials and tools.

3, Add light, not holes
Adding a window or skylight is a popular and valuable solution to lighting a dim bathroom. But you don't have to cut a big old hole in your roof or the side of your home to share the sun. A sun tube, also known as a solar tube, is an ingenious device that you install between the rafters in your attic.

4. Learn to love Subway Tile
That glass mosaic tile with moulding accents you've chosen is sure to be gorgeous. But it can be pricey to cover your entire bathroom. Instead, consider using the expensive choice as a decorative border or feature wall and go with white subway tile for the rest of your tile surfaces. Clean, simple, and classic subway tile has a timeless appeal that harmonizes with almost any decor.

5. Take the colour of the paint
Even the most expensive tiles can eat into your design budget. But you don't need tile to slab to make a dramatic impact in your new bathroom. You can save a chunk of change by limiting yourself to tile on the floor and shower and painting the walls. For added warmth and texture, add an inexpensive and easy-to-install wainscot or faux beadboard.
Whether you are doing the renovation or you have decided to hire a professional we got you covered with bathroom fixtures and accessories tot make your bathroom beautiful.