Step-by-step tips for renovating your bathroom
Whether your bathroom is a place to maintain personal hygiene or a place to enjoy bathing, over time you need to renovate and refresh the bathroom. Whether you just want to change the colour, replace the tiles and replace the tub or shower, a bathroom renovation can often seem like a daunting investment of money and time. We offer you a step-by-step guide on how to renovate your bathroom and soon you'll be relaxing in your own new home spa with beautifully soft and silky water.

Now is the time to start planning:
1: Budget.
2. How will you use your bathroom?
3. It's time to talk to a professional.
4. Time to think.
5. Decide who will do what?
6. Finalize the budget.
7. The big day.
8. Before enjoying.
9. Everything is done.

The Bath Plus has products that can help.

After the kitchen, your bathroom is probably one of the rooms you can't live without for very long, and your planning should ensure the use of other rooms while work is in progress and all work should be completed in the shortest possible time
Making the right decisions at the planning stage is important for you, your family and your lifestyle. With the correct choice of layout, colours, tiles and floor coverings, you will ensure a practical renovation of the bathroom. If done right in the planning stages, a bathroom renovation can add value to your home and improve its potential sales in the future.
Painting a bathroom and adding new features can make a big difference and we can probably do them ourselves, but changing the arrangement of features or doing a complete renovation is best left to the professionals.
We often wonder how to get started, so we offer you a guide on how to start and finish your bathroom renovation in the most efficient way to reach the space of your dreams.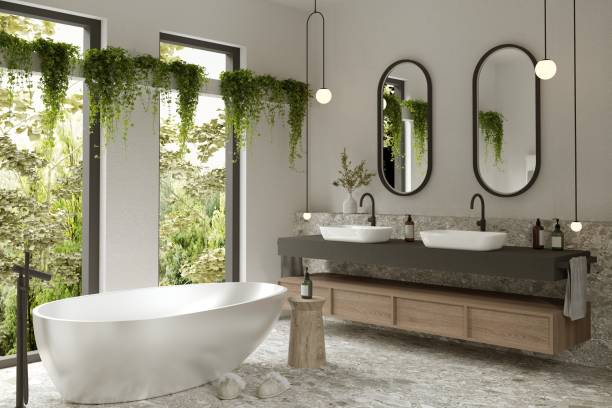 Step 1. Budgeting.
Many people first plan and then calculate the costs of their idea, so they are easily disappointed because the idea exceeds the available funds and they have to give up some of the ideas. And that's not it anymore. That is why it is important to plan the budget you can allocate at the earliest stage and take into account all the stages: breaking tiles, changing installations, tiles, joints, insulation, glue, taps and faucets, drainage, bathtub or shower and working hand. Do not forget that for bathroom renovation you will need several different masters or a contractor company.

Step 2. How will you use your bathroom?
It's time to look at the aspect of how you will use your bathroom. If you have small children, you will probably need a bathtub and a different arrangement of elements in the bathroom, but if the children are older or you live with elderly people, a shower enclosure is a better solution. What type of tiles will you put on the floor to keep it from slipping especially if you have small children or the elderly? How do you plan to clean the bathroom - if you have soft water in the bathroom, you can also have dark tiles that will not stick to scale and will be cleaned very simply and with fewer cleaning agents. Plan your needs for the future, because you probably won't be renovating your bathroom for at least the next 10 years.

Step 3. It's time to talk to a professional.
Once you've thought about how you'll use your new bathroom, and how much budget you have for each item, it's time to put those ideas down on paper. The Internet is a great place for ideas, as is your local bathroom and showroom. Make a provisional measurement, to begin with, and if you are satisfied with the existing arrangement of elements you do not have to change it. Make a rough sketch of your existing layout, not forgetting to mark the location of doors, windows, radiators and even light switches. Think about the bathroom style you want and download some pictures from the internet. Now is the perfect time to talk to a professional. Because they're local, experts will know about local water conditions and can advise on little things like shower enclosure liners that will help keep a bathroom looking new for longer after a renovation.

Step 4. Time to think.
Don't rush, no matter how good an offer you get to buy now. Look at the plans and compare them with your choice of objects and elements that you have chosen. Take a step back and think about the practicality of each of the elements. Where will you keep all the small things that need to be within reach? Will you use a built-in mirror element that is very practical? Will a nice-looking radiator provide enough heat in your bathroom?

Step 5. Decide who will do what.
The cost of your project will decide not only the choices you've made so far but also who will be doing the work. Many specialist bathroom renovation salons will offer a turnkey solution, from supplying your choice of products to installation and finishing touches. Many local plumbers will offer a similar service, while others will prefer that you source and bring the products.
You can choose a handyman for each area of ​​your renovation, so your list can include: a plumber, electrician, tiler, decorator, and maybe even a bricklayer. Or you may decide to do some or all of the work yourself and source your products from bath plus.
Remember, if you use more than one handyman/firm, then someone will need to manage the project and ensure that the work is completed in the correct order and on time. It is vital to have a work schedule for everyone involved and don't forget to agree on who takes out the rubbish too!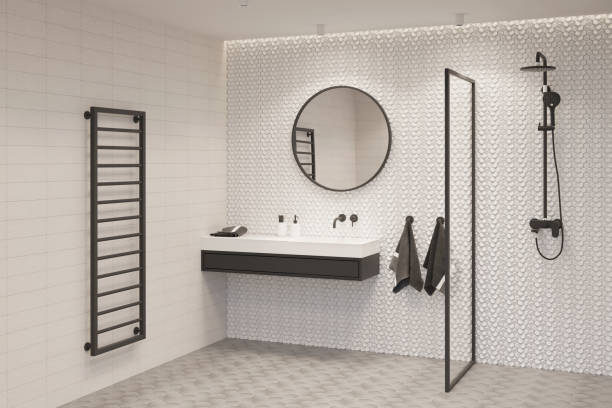 Step 6. Finalize the budget.
No matter which path you chose, now is the time to finalize your budget. Choose your partners wisely and always get more than one quote, including payment terms and check delivery times with your supplier before booking work with any handyman or expert.
If you already have no idea about experts and handymen, the internet is a gold mine with many reviews and recommendations from happy and in some cases not so happy customers.
When making your final selection, take the opportunity to discuss with them in detail the products you have chosen, the time frame and level of finish you expect and if possible write down on a piece of paper everyone who will be working and share it with everyone from the masters, and avoid general information like "Laying tiles in 3 days" - present the progress of the works in detail by days.
With your bathroom renovation plans selected and your bids, it's time to grab your calculator for that all-important final number – the final budget. If it's more than allowed, then it's time to review and see where savings can be made.
Make sure your final budget includes all the important things you might forget such as tile cement and grout and waste traps for your sinks, baths and showers and don't forget the light bulbs. Happy? Then it's time to organize your deliveries and contractors.

Step 7. The big day.
Before the start of the big day and work, it's time for a final check. If you've gone for a turnkey solution, then a simple call to your chosen firm is all it takes to relax that weeks of planning are finally coming together. If you chose to use different people, then you will spend more time on the phone, but it is well worth it for peace of mind.
Make sure you've cleared enough storage space for any items that may arrive before they're needed because even with the best planning, materials can arrive early or work can be a day behind schedule.
When the material arrives, it will often be shipped in protective packaging, making it difficult to inspect in detail on site, but check for obvious damage such as crushed boxes or torn parts and inform your delivery person before it leaves your place. Photograph the damaged areas and do a detailed inspection as soon as possible.

Step 8. Before enjoying.
As the work progresses, take time each day to check the quality of work and that things are moving according to the schedule of everything you requested. Address problems as soon as they occur to minimize the rework required. When the work is done, check the work thoroughly before signing it. Most reputable contractors will not expect a final payment before you are satisfied.
Don't forget to check the obvious too, are the shower, mirror and toilet lights working? Finally, has all the trash been taken away? It is not unreasonable to stick to any final payment if there is work to be completed in accordance with the agreed schedule. Register your guarantees and if you have chosen a BWT water softener ask us to put it into operation for free.

Step 9. Everything is done.
Enjoy your newly renovated bathroom and if you take the opportunity to protect it with a water softener, as many modern hotels do, then it will stay looking new for longer, be easier to clean and last longer, however, you use your bathroom. Enjoy the first real spa treatment in your bathroom.
The Bath Plus products for your bathroom, are here.