Bathroom renovation - prices, ideas and speed of work
The bathroom is a space that must, first of all, have a useful value, but also look beautiful, which is increasingly difficult to achieve as the number of sanitary elements and devices as well as installations increases. At the same time, it must be taken into account that it is not just about replacing visible parts; it is much more important to change all invisible installations. A complete quick bathroom renovation includes tasks such as replacing sanitary ware, floor and wall coverings, electrical installation and lighting, as well as water and sewage inlets and outlets. By renovating the bathroom, you will take care of both the worn-out pipes and the modern look of the bathroom.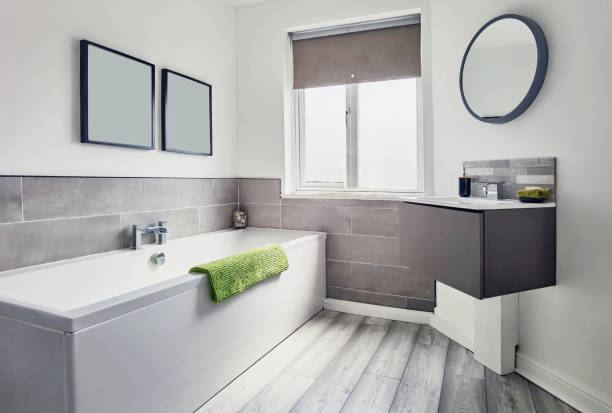 Bellow:
Bathroom renovation estimate
What kind of contractors are needed for this kind of work?
Modern bathrooms – ideas and equipment
Replacing installations
Removing tiles
Bathroom tiles and mosaics
Stone and wood in the bathroom
Bathrooms without tiles
How much does it cost to renovate a bathroom?

1. Bathroom renovation estimate
As a rule, bathroom renovation is a complex, difficult and not at-all-cheap job. Before work begins, it must be determined what needs to be replaced. It practically means insight into the condition of all lines, pipes, and connections, as well as an assessment of the possibility of installing new elements and systems, such as, for example, underfloor heating. In addition to the crafts, the procurement of materials, especially tiles and sanitary ware, as well as the transportation of rubble, should be taken into account. A well-planned and expertly-planned bathroom renovation can save you both money and nerves.

2. What kind of contractors are needed for this kind of work?
The rapid renovation of the bathroom requires coordination, continuity and perfect organization of the work and, therefore, of all contractors and craftsmen. They are mostly mechanical, plumbing and electrical installation contractors and ceramicists. For the sake of faster work and possible savings, perhaps one of the best solutions is the execution of works "turnkey" since in this case all responsibility is borne by one contractor who performs the work with partners.

3. Modern bathrooms – ideas and equipment
First, you need to decide how the bathroom will look as a whole. Can't imagine what a modern bathroom looks like? An architect or interior designer, an expert in interior decoration, could help you with ideas.

4. Replacement of installations
The position and direction of the installation pipes largely determine the positioning of the sanitation. In general, it turns out that the biggest obstacle is the passage of the vertical sewer line into which all the waste flows. The toilet bowl must be as close to that opening as possible so that the connection is as short as possible and the chances of blockage are as low as possible. It is possible to install a hanging cup with special accessories on the floor.  Installations are also often hidden with plasterboard. In the case of installations, the most important thing is the correct execution of the fall and drainage.

5. Removal of tiles
Removing ceramic tiles in the bathroom actually means breaking them and scraping the debris off the walls. When removing the floor tiles placed above the underfloor heating, it must be done very carefully so as not to damage the heating pipes. It is best not to remove the floor tiles, so as not to damage the old insulation. Tile removal, and especially floor tile removal if you really have to, is best left to the professionals.

6. Tiles and mosaics for the bathroom
Ceramic tiles, it can be said, have always somehow been mostly used for bathrooms and are therefore available in numerous formats and designs. The most common dilemma in choosing tiles is their size. The choice of large formats increases the price of labour even up to 100%, it is good to stick to smaller formats. Mosaic is done in small bathrooms or in large ones, but only to emphasize the classic tiles.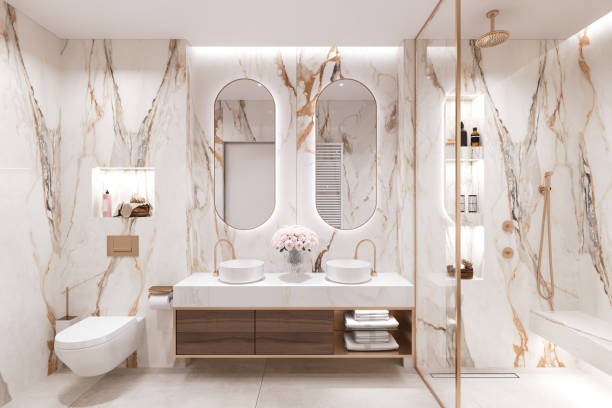 7. Stone and wood in the bathroom In addition to tiles and mosaics, which are considered classic, other materials are increasingly used for bathrooms. Stone tiles and slabs are becoming more and more popular. The stone in the bathroom looks classic and elegant, although a little cold. The stone is chosen by those who love originality and classics. However, stone slabs are not as durable and resistant as ceramic tiles, and their maintenance is more laborious. Something different, but certainly a more interesting solution in the bathroom is wood. Wood in the bathroom is no longer used exclusively for pieces of furniture and various accessories, but also for floor and wall coverings. The most suitable replacement for wood is the new models of waterproof laminate. You can find a wide range of wood patterns. The surface of the laminate is covered with diamond dust, which ensures durability.
8. Bathrooms without tiles
We can tell you that a bathroom without tiles has many advantages compared to one with them. Novelties in this direction move in the area of ​​high-quality colours that imitate concrete, marble, and wood and are priced close to the most expensive tile formats.

9. How much does it cost to renovate a bathroom?
How much would a full bathroom renovation cost? The price of the bathroom depends on the amount of work, the quality of the built-in materials and its size.
Sanitary facilities are of medium-high average prices. Extremely expensive bathrooms mean expensive sanitary ware and that mostly affects the price. At the same time, keep in mind that costs do not increase with square footage, that is, a smaller bathroom may turn out to be more expensive than a large one.