Choosing the Right Kitchen Tap
How to choose the right tap for the kitchen sink?
There are different points to consider when choosing the right tap for the kitchen, such as category, installation and additional functions.
First, identify the category of kitchen tap that you want: a mixer tap, double-handle mixer tap or single tap.
There is a vast selection of kitchen taps made from different materials to choose from on The Bath Plus website.
Here is a four-point guide that can help you identify the right kitchen tap for you:
Category
Material
Shape and holes
Water and energy saving functions
A double-handle or single-handle mixer tap for your kitchen?
Mixer taps can have single or double handles. The single-handle tap has one handle to mix the water flow and temperature, while a double-handle tap uses two handles to perform the same task. 
Mixer taps can also come with a hand shower, for greater comfort. This is very handy for washing dishes and rinsing vegetables. It is ideal to choose a mixer tap with a mixing valve that has high precision in order to conserve water.
Here is a comparison of the two types of mixer taps so you can see the advantages and disadvantages of each:
Since it has only one handle, it is practical and easy to use. Installation is quick and mixing the preferred temperature and water flow is easy. After many uses, however, a single-handed tap tends to leak faster than a double-handle tap. They are modern in style and can look great in modern kitchens.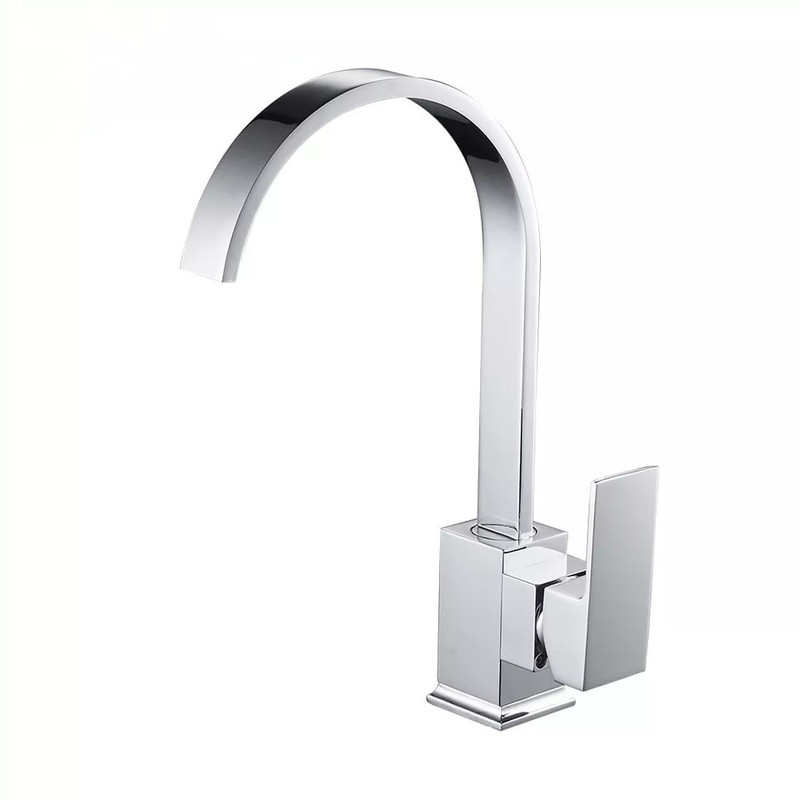 With two handles—one for hot, one for cold—, you will need to balance between the two to get the desired temperature, making it less practical compared to the single-handle tap. Installing it can take more time but it is doable on your own. On the design side, they are more of a classical style and many commercial kitchens use this type of mixer tap.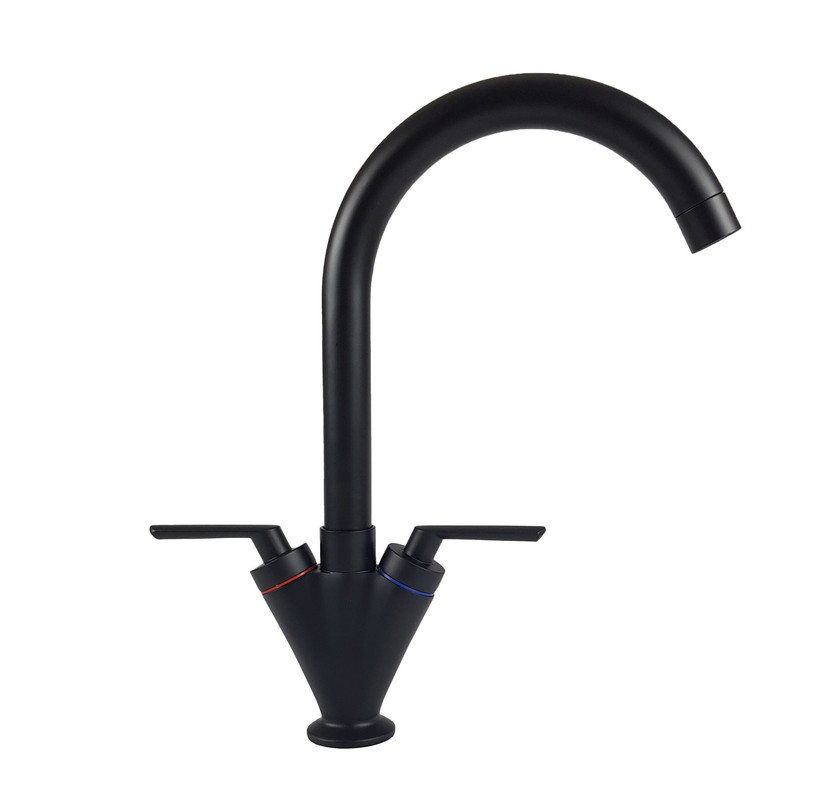 Which material for the kitchen tap?
The material of your kitchen tap is important as this will determine its longevity and durability. While many kitchen taps are made of ceramic, plastic, glass or composite materials, durable metals such as polished chrome, bronze and satin nickel are the most popular. 
Chrome is the easiest to clean and can be found in many commercial kitchens. It is a bit expensive but well worth the high price for its durability. Nickel kitchen taps can come with different finishes such as brushed, stainless or satin. It is a tough material but requires regular cleaning as it is prone to water spots and fingerprints. Bronze kitchen taps have a brownish tone and can be found in traditional home kitchens with a rustic character. If you would like bronze kitchen taps in your kitchen and you have a small budget, consider getting a bronze kitchen tap with an epoxy coating surface as this is less expensive. 
Most Popular: 
How spout shape and the number and size of the holes affects water flow?
To properly choose the shape of your faucet, you must consider the shape of your sink and your kitchen as a whole. Kitchen taps are built with one, two, three or four holes and it is good to know the size of the holes as well as the water pressure system in your kitchen to ensure a properly functioning tap. In order to select the right size tap, measure the area where it will be placed, then choose a tap with the corresponding spout height and reach, made of the material you prefer.
Water pressure is important to check before buying a kitchen tap as many taps require a minimum pressure of 0.1 bar. If you have a low-pressure water system in your kitchen, there are economically sound kitchen taps capable of regulating the flow of low-pressure water.
A tap has a base with a spout surmounted on it. Depending on the style of the sink and the needs of the user, there are different kinds of spouts that can be chosen. Choose a long spout that will cover the entire surface if your sink is wide and a high spout if your sink is shallow so you can clean a lot of dishes or food in the sink. If you have a window or bar behind the sink, choose a low spout so you can open the window or see over your tap to the bar.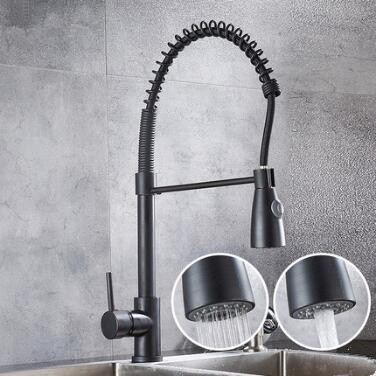 How can you save water and energy with your kitchen tap?
Being mindful of the water flow from your kitchen tap will help you save water. Proper care should be taken to prevent leaking from kitchen taps by fixing leaks as soon as possible and not leaving kitchen taps on when not in use.  
Below are more ways you can save water and energy with your kitchen tap:
Check the seals and valves to ensure that they work properly in order to avoid leaks that will lead to water wastage. 
Regulate the use of water temperature to save energy. If you have a double-handle faucet, try to use one handle at a time, this will facilitate both water and energy saving.
Get a new tap nozzle instead of buying a whole new tap. If you want to replace your old kitchen tap to save water and energy, you can change your old tap nozzle instead of getting an entirely new kitchen tap. Get a water-saving nozzle, also called a perlator. This type of nozzle mixes air into the jet of water even at low flows and will save water. 
Use new resource-efficient kitchen taps. The latest technology for tracking water usage and the lifespan of recent filters can help efficiently save water and energy. Some of the latest technological features for kitchen taps are infrared mixers that make the water flow only when there is hand movement detected.
Get a thermostatic mixing valve. The average flow of water from the kitchen tap is 12 liters per minute and to reduce this amount, you can install a thermostatic mixing valve so you can have your ideal water temperature more quickly than with a traditional mixer tap as it reduces the amount of cold water flowing.